Besides the straight pultruded fiberglass and carbon fiber tubes, Unicomposite can supply carbon, FRP taper and telescopic poles according to customer's requirements by our technology such as vacuum forming, stamping molding forming, RTM forming, rolling forming, etc. FRP telescopic poles have been widely used as flag pole, post, tent poles, golf driver with the features of heat-resistance, corrosion resistant and excellent structural properties.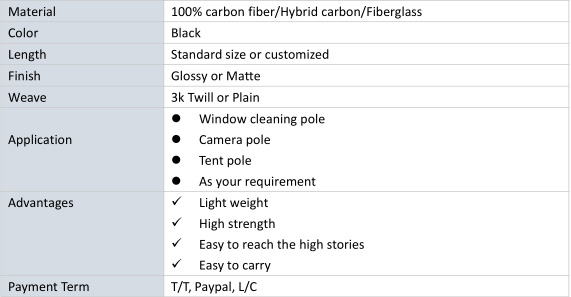 ---
Advantages of our taper and telescopic poles
Fiberglass telescopic poles Application:
■Flag poles
■Fishing pole
■Radio mast
■Boat stick
■Electricity safety hook
Custom produce, according to request on size and application.
Material options: carbon fiber, glass fiber, or hybrid.
Surface finishing: PU coated painting, brighter or matte finishing
---
Specialized in Fishing rod
The two common materials for a telescopic cane pole is fiberglass and carbon fiber.
Since these poles tend to be on the cheaper side, a fiberglass cane pole is more commonly found in stores and online.