Manufacturing of composite Drives Shafts is our specialty. The type of Drive Shaft to be used depends upon the horse-power of the motor. The length of the Drive Shaft is tailor-made as per site requirement and given specifications. These are dynamically balanced before dispatch within the specified limits of permitted un-balance. Flexible elements are used at both the ends to absorb minor mis-alignment. This ensures smooth running of the equipment. Components of carbon fiber Drive Shaft are fabricated from specified material only as per Customer requirement. Drive Shaft is a very precision item. Our quality control ensures that casting, machining and fabrication are closely and skillfully monitored for long and smooth running.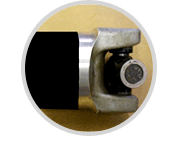 ---
Drive Shaft: Carbon Fiber Drive Shaft
Lighter than steel or aluminum.
Three times torsional strength of steel.
Torsional spring rate allows better tire hook-up.
Torsional spring rate allows smoother shifting.
Less shock load to the differential.
Eliminates or dampens high speed vibrations.
Reduces transmission and differential breakage.
Widely used in car and wind turbine generator.