Fiberglass decking is made from extremely fine glass fibers combined with resins to produce high-quality construction materials.
With the advancement of social science and technology, the development of civil engineering structural disciplines has benefited to a large extent from the application and development of new materials and new technologies with excellent properties. FRP is being used more and more widely in bridge engineering, Ocean engineering, etc., has received extensive attention from the structural engineering community. FRP pedestrian walkway is a kind of structural profile that is convenient to install and use.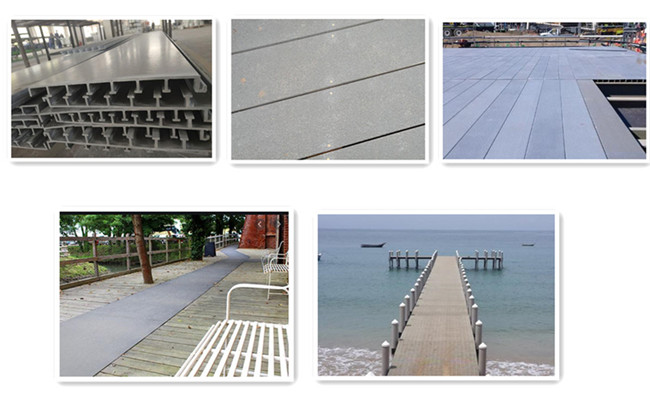 FRP Decking Advantages:
Non-Corrosive – will not corrode exposed to a wide variety of corrosive elements including chloride ions.
High Strength-to-Weight Ratio – provides good reinforcement in weight sensitive applications.
Insulated – provides excellent electrical and thermal insulation.
Excellent Fatigue Resistance – performs very well in cyclic loading situations.
Good Impact Resistance – resists sudden and severe point loading.
Magnetic Transparency – not affected by electromagnetic fields; excellent for use in MRI and other types of electronic testing facilities.
Light Weight – easy to be transported, no need for lifting equipment, saving high machine and manual cost.
Variety of Colors for Choice and Environmentally safe
We supply various sizes and types fiberglass decking and planking, such as hollow closed decking, open decking and honeycomb decking. Foam also can be insulated into the fiberglass decking profile at customer's request. All Unicomposite's fiberglass deckings and panels are widely used in flooring, seawall, walkways, cooling tower, vehicles, platform, etc.
And the wooden surface contributes to the wide use of FRP in the construction industry. For example, walkway decking with wooden grain surfaces are increasingly used in scenic spots. The wooden surface can better integrate with the surrounding trees and flowers, making people enjoy the beauty of nature. This is in line with the current concept of vigorously developing primitive ecology.