Fiberglass Snow Stakes are made to last in any snow, or any weather change.
●Our snow stakes are of the highest quality and are great for other purposes such as: driveway markers land and survey marking, walk-way and crowd control, landscaping and more.
●Our snow stakes come in variety colors, such as orange, green, blue, etc, although our orange snow stakes are the most popular.
●Available in 4ft, 5ft, 6ft and 8ft lengths. Make sure to buy the rubber mallet to ensure protection of your fiberglass stake.
---
Its features and role on our life nowadays
It also like our plastic snow stakes because they are highly flexible. The plastic stakes can be bent 90 degrees and return to original position. Contractors estimate 70-80% of their plastic stakes are reused for the next winter season (wood stakes are less than 50%)
FRP Snow stakes plays more and more important role in transportation industry in Northern American, especially in winter because of its excellent features compared to stakes made of other materials. These driveway markers are the absolute premiere product for snow plow contractors in all commercial and residential applications.
---
Application on Road Side
---
Our reflective fiberglass driveway markers are made with the highest quality fiberglass for durability. Unicomposite contractors love the fiberglass snow stake because of their durability and visibility. Polar Snow Products' fiberglass plow stakes are bright orange with reflective tape for 360 degree visibility.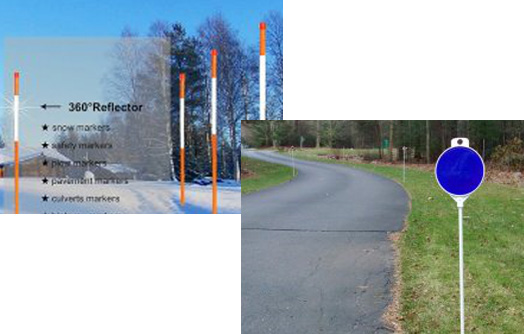 ---

Driveway markers with special reflective tape make it is possible when to night, which is innovative design.