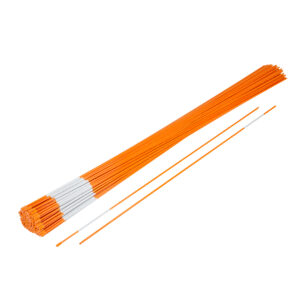 Wooden markers usually cost an average of 10-20 cents each, making them the more affordable option. However, they tend to split during installation, and they aren't as sturdy as their fiberglass cousin. If you're concerned about visibility, you'll probably want to paint your wooden stakes or apply reflective tape.
While fiberglass stakes are more expensive, they tend to last longer and perform more dependably in harsh environments. Installing these can still be a pain, especially if the ground is already frozen or if your soil is rocky. If you use a drill to create pilot holes, be prepared to burn through several bits. Or you can check out tip number #7 below!
Just keep in mind that you should never substitute rebar or PVC pipe for wood or fiberglass snow stakes. Any material other than wood or fiberglass is likely to accidentally harm something or someone.
Complete specifications: can be customized according to demand, complete specifications
High-quality material: high hardness/hard strong/durable
Smooth without burrs: the surface is bright/evenly stressed/not silky
Wear resistance and high corrosion resistance: good oxidation resistance in a wet environment.
Fall Into The Season!
Snow Stakes | Driveway Markers, Discount 40%!
Contact Us For Best Pricing, In Stock & Fast Shipping, Wholesale Pricing
You can get a quotation, technical advice, and help from info@unicomposite.com