Unicomposite Technology Co., Ltd. Focus on the production of new glass reinforced plastic greenhouse skeleton. Fiberglass stake is made of a variety of chemical raw materials, it has both the quality of steel, the toughness of bamboo, and the waterproof performance of plastic, light weight solid, anti-aging deformation, strong and durable characteristics. 
Fiberglass stake is not easy to deformation, not broken and its low thermal conductivity, not hot film environmental protection pollution-free. It is an ideal substitute for bamboo pole at present, with low cost and a life span of more than 10 years. 
Unicomposite fiberglass stake small arch shed skeleton series product specifications 5mm 6mm 7mm 8mm 12MM16mm 20mm, it completely replaced the size of bamboo, the product has been on the market, praised by the user. The price of bamboo, the quality of steel, the life of cement. If you are interested in our products or have any questions, please contact us: info@unicomposite.com.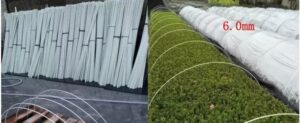 https://www.unicomposite.com/product/plant-stake-trellis-t-post/
Fiberglass greenhouse frame has replaced the traditional bamboo pole