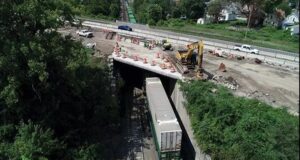 This is an article published in The Journal Of Composite Materials Manufacturing in March 2019. The full text is as follows:
The Ohio Department of Transportation is switching to composite materials in its renovation of the deteriorated Anthony Wayne Bridge on a four-lane highway near Toledo, Ohio. Mannik&Smith Group, which designed the project, initially did not consider using concrete reinforcers made of fiberglass reinforced plastics (FRP). The bridge crosses one of the busiest railway lines on the Norfolk Southern Railway. Epoxy-coated steel bars were originally specified.
"Around that time, we were introduced to Owens Corning and its fiberglass steel bars products," recalled Richard Bertz, CEO and president of Mannik&Smith. At first, engineers at Mannik&Smith were skeptical that FRP could withstand the heavy traffic on the bridge. But when they studied the product, they became convinced that FRP not only worked but offered many advantages.
Unlike steel bars, glass bars do not rust, so concrete panels do not deteriorate quickly, increasing the service life of the structure. In addition, fiberglass steel bars are lighter, so transport costs are lower and installation is faster.
The Ohio Department of Transportation agreed to consider the use of fiberglass steel bars in the bridge project as long as it was cost-effective. The ministry solicited bids for the project in two ways — steel and glass.
Several factors influenced bidding for fiberglass steel bars. First, FRP designs require the use of more steel bars than traditional structures. "The parameters that dominate the design are different from traditional steel bars," Bertz explained. With steel bars, the bending or tensile strength of the material dominates the design; With glass reinforcement, crack control or shear strength is the dominant design parameter.
In addition, contractors bid more for the use of fiberglass rebar because they have no experience with the material and may want to add any unforeseen costs that may be involved. "They don't know what they don't know," Bertz said.
When all bids were submitted, those that specified the use of composite materials were within one percent of the total cost of the project. "From the dot's point of view," Bertz said, "it adds a little bit of an opportunity to test the application of fiberglass rebar." The department of Transportation chose Miller Brothers as the general contractor and chose to use FRP rebar.
Work on the bridge replacement began last year and is scheduled for completion in fall 2019. Owens Corning manufactures fiberglass rebar for it. Owens Corning has completed nearly 90 FRP bridge reinforcement projects in partnership with Hughes Brothers' fiberglass rebar division, which Owens Corning acquired in 2017. Glass reinforcement is made of glass fiber roving and vinyl ester resin. The FRP steel bars, cut into 40, 60, and 80 feet long, were then surface-treated to help them bond to the concrete.
The builders found a major difference between using FRP steel bars. "Fiberglass steel is a quarter the weight of steel, so it's easier to store and transport steel around the site," said John Amonett, general manager of Owens Corning's infrastructure division. "We found that it took a third to a half less man time to install the same length of glass reinforcement."
Fiberglass is lighter and reduces the likelihood of injury when lifting or accidentally dropping glass rebar. And, unlike epoxy-coated steel bars, glass bars do not slip when wet.
Both Amonett and Bertz expect the use of FRP steel in bridge engineering to increase in the coming years. One reason is the release in December 2018 of the Second edition of the National Association of Highway and Transportation Officials (ASHTO) guidelines for The Design of FRP Reinforced Concrete Bridges. In the old and new guidelines, deck design is generally governed by maximum crack widths and shear limits. However, the second version increases the maximum allowable crack value.
If engineers at Mannik&Smith were able to use the updated specification to design the Anthony Wayne bridge, they could increase the spacing of the tendons by 1/2 inch, reducing the number of tendons needed. This reduces the cost difference between FRP steel bars.
Other economic factors are also helping FRP steel gain a foothold in infrastructure projects, including tariffs on imported steel, which have led to higher prices. "According to the Ohio Department of Transportation, rebar prices have increased 18 percent in the last year," Bertz said. So when you factor that in, we're going to see glass rebar becoming cheaper than steel."
Amonett noted that unlike steel, which fluctuates in price, FRP costs remain stable and predictable. That makes FRP steel a cautious choice for contractors, who may prefer materials with more stable prices when bidding on projects that will last two to three years.
In addition, as contractors become more experienced and comfortable with FRP steel, they may lower their bids to more realistically reflect installation costs. Increased demand for FRP steel could also lead to scale production and lower manufacturing costs.
"We already know FRP will be great savings in life cycle costs, but for cash-strapped organizations, the first cost really matters." "We are very confident that very soon the cost will be lower than epoxy-coated rebar," Bertz said. "I believe that in 10 to 15 years, just as epoxy-coated steel bars are standard today, Fiberglass steel bars and CFRP bars will be increasingly integrated into bridge design."