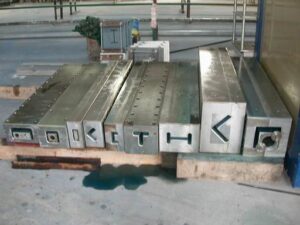 Use FRP composite materials to process mould, referred to as FRP mould for short.
There are many types of FRP drawing die tooling, such as: FRP grating mold equipment, FRP pipe tooling, FRP cable tray tooling, FRP cover tooling, etc., all of which can be customized according to customer needs.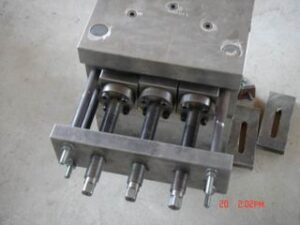 The Advantages Of FRP Mould
The function of the FRP pultrusion die is to realize the compaction, forming and solidification of the blank. The cross-sectional dimensions of the mold should consider the mold shrinkage of the resin. The length of the mold is related to the curing speed, mold temperature, product size, pultrusion speed, reinforcing material properties, etc., generally 600-1200mm. The smoothness of the mold cavity should be high to reduce friction, prolong the service life, and easy demoulding.
Precautions for FRP toolings: The design of FRP pultrusion tooling directly affects the traction used in the pultrusion process. If the traction resistance is too large, it is easy to cause mechanical accidents. For example: a certain section of the mold cavity is roughened, resulting in the surface is not smooth enough, the traction resistance is increased, the composite material stays in the FRP pultrusion mold for too long and solidifies prematurely. In this case, the mold must be shut down to remove the mold or even repair the FRP pultrusion die. It brings great inconvenience to continuous production and causes loss of manpower and material resources.
Technical advantages of FRP pultrusion mould:
① High flexural and tensile resistance, shear resistance and impermeability
②Low shrinkage rate can effectively prevent shrinkage cracks from occurring
③Excellent toughness index, increase residual bearing capacity
④High early strength
⑤Improved impact resistance and fatigue resistance
⑥ Good workability, evenly distributed in the crush, no fiber entanglement and agglomeration
FRP mould have excellent properties such as low cost, easy processing, high frequency of use, and repairability of molds. Therefore, they are widely used in various gypsum products manufacturers. With the rapid development of construction engineering, petrochemical industry, cooling equipment, animal husbandry, and marine engineering Development, the demand is steadily increasing.