The FRP catwalk and platform use FRP profiles as structural support materials, FRP gratings as steps and walkways, fiberglass square tubes or FRP round tubes as guardrail systems, fix molding with molded connectors, and other pultruded profiles, such as FRP rectangular tube, FRP channel , FRP Angle, FRP kick plate, etc.
It is suitable for areas and occasions with special requirements such as high anti-corrosion requirements, non-conductive anti-riot, heat insulation, underwater and underground damp and cold, and is widely used in sewage treatment plants, water plants, petrochemicals, paper-making, steel manufacturing and other industries.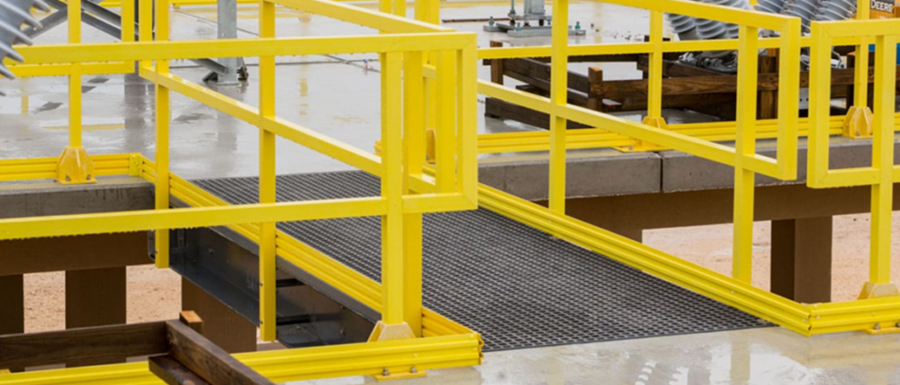 Corrosion Resistance
Steel will eventually wear down in arid environments or high humidity conditions. FRP catwalk and platform are lightweight, rust-proof and corrosion-resistant, which makes them an ideal substitute for heavy and corrosive steel.
Extremely Durable
With FRP catwalk and platform, you won't need to replace them frequently. FRP catwalk and platform are virtually maintenance-free, and if installed correctly, they can be used for up to 20 years. FRP catwalk and platform have strong corrosion resistance and can easily cope with the harshest conditions.
Design Safety
According to your industry needs, many safety features of fiberglass catwalk and platform can be modified. Whether it is a flame-retardant resin, a material that can withstand higher temperatures, or a non-slip surface to prevent the risk of falling.
OSHA Compliant
The fiberglass reinforced catwalk and platform system are designed and manufactured to comply with strict OSHA guidelines. And has flame retardant resin, standard safety yellow color and non-slip texture.
Easy Assembly
The fiberglass parts can be pre-drilled and cut to facilitate quick assembly on site. And unlike steel, FRP systems can be fabricated and installed using standard tools.