Unicomposite's fiberglass(FRP) handrails and guardrail systems are highly resistant to corrosion, fire, and impact, and can be customized into various shapes and sizes according to customer requirements, which are made using a pultrusion process, and the products made by this process are A composite material made from a mix of fiberglass and resin that is both durable and lightweight.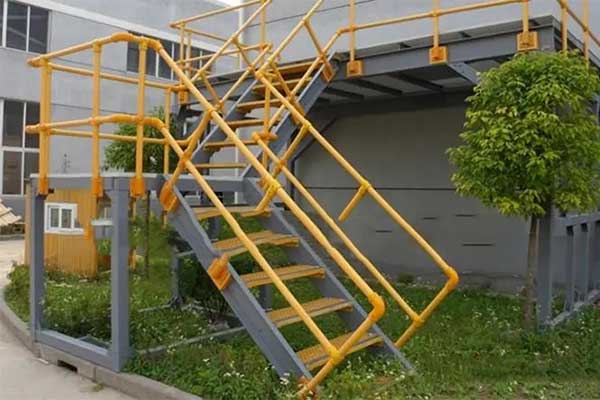 Some of the Fiberglass Handrail and Guardrail Components
Fiberglass handrails and guardrails offer several advantages over traditional materials, such as wood or metal. Some of the key benefits include:
---
Durability: Unlike metal handrails, which can rust or become corroded over time, fiberglass handrails are resistant to moisture, salt, chemicals, and UV rays. This makes them ideal for outdoor and marine applications, where exposure to the elements can quickly cause traditional materials to deteriorate. In addition, fiberglass handrails are strong and durable, with high resistance to impact and wear and tear. This means that they are less likely to become damaged or worn over time, even in high-traffic areas.
Low Maintenance Requirements: Unlike wooden handrails, which require regular painting or staining to maintain their appearance, fiberglass handrails do not require any additional treatment to protect them from the elements. This not only saves time and money, but it also helps to keep the environment clean and free of harmful chemicals.
Safety: Unicomposite's Fiberglass handrails are highly slip-resistant, making them ideal for use in wet or slippery areas. Additionally, the material is non-conductive, meaning that it is safe to use near electrical equipment and wiring.
Lightweight: Fiberglass is lightweight, making it easy to install and handle. This can be especially important for high or hard-to-reach areas where the weight of the handrail may be a concern.
Aesthetic appeal: Fiberglass handrails and guardrails are available in a variety of colors and finishes, so they can be designed to match the look and feel of the surrounding environment.
Unicomposite's Fiberglass Handrails & Guardrails Systems
---
Whether you are looking for a safe and reliable handrail for your home or building or a durable and low-maintenance option for a commercial or industrial setting, Unicomposite's fiberglass handrails & guardrails are an excellent choice.
Fiberglass Handrail and Guardrail Components Manufacturer Video
---